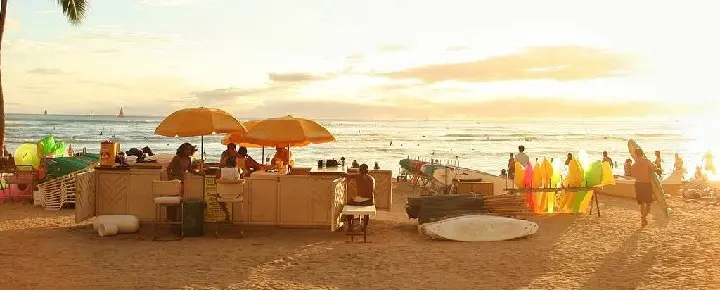 Hawaii's long-awaited summer tourism slump officially begins today with more traffic, sold-out activities, longer restaurant lines and crowds on beaches as Hawaii prepares to welcome more 10 million annual visitors, nearly 8 times our population this year. As you'll see in the state chart below, domestic arrivals are well ahead of all previous years. Domestic arrivals have a disproportionate impact on neighboring islands which receive fewer international visitors than Oahu.
Residents and visitors are going to be nervous until the low season begins in mid-August. Both groups prepare for an onslaught of arrivals and whatever else they might have to endure. We would like to think that we are all in this together and want to have the best possible situation for all of us.
And we always get asked, "Does Hawaii hate visitors?"
The simple and obvious answer is no as we prepare to welcome an unprecedented number of guests over the summer, while facing, in many ways, woefully inadequate resources. We join you in disliking seeing visitors or residents huddled together with even a small pile of rotten eggs. And yet it's busy, probably too busy given our limited abilities, and there's truth about overly demanding and expectant travelers detracting from the Hawaii travel experience, especially at its peak. of summer.
Speaking of what Hawaii residents think about tourism, the Hawaii Tourism Authority (HTA) released a Resident Sentiment Survey last year. "He found that while many are concerned about the growth of the visitor industry, the majority of Hawaii residents think tourism is worth the problems associated with the industry."
One commenter said: "On many forums there seems to be an underlying resentment and hatred towards visitors, no matter how respectful we are. It really feels like many are entitled to charge us prices at every turn (getting their 5 pounds of flesh) for the tour. It also seems like some want to treat us like "Disney" visitors because that narrative keeps getting thrown around. Is this really how Hawaiians feel or are some "bad actors" trying to scare visitors away? »
For us and for you, let's take a break during this ultimate summer of revenge travel in Hawaii.
Without a doubt, we are already seeing it even before the summer crisis officially begins today. Over the next two months, we're going to experience more traffic, crowds and frustration as Hawaii prepares to welcome more than 10 million annual visitors, nearly 8 times our population this year.
One reader had a solution for Kauai's traffic: "A road connecting north and south on the power line trail will never happen, but how about a bike path? How about a tram? …bringing tourists from Po'ipu to Ha'ena without crossing the perimeter. What do you think?
Where we see frustrations with overtourism in Hawaii.
Traffic jam. It takes a while to cross from one side of an island to another with the number of cars. You'll notice it on all the islands, but for us it's most noticeable in Honolulu traffic, Maui traffic, and Kauai traffic. Have you tried driving from Kahului Airport to Kaanapali lately? Oh my. Even during off-peak hours, there can be traffic jams. During the summer, you'll need to allow even more time to reach your destinations safely.
Labor shortages persist, exacerbating overtourism issues. Definitely a Catch-22. We have enough visitors to fill the restaurants and activities, but not enough staff to serve them. This can lead to long wait times with sometimes reduced hours, or seeing the 'sold out' sign no longer. With labor shortages in the hospitality industry, congested roads, and 90-minute wait times at restaurants not uncommon when you can even get in, locals and visitors alike are easily frustrated.
Disrespect for Hawaii. Whether it's trespassing or touching monk seals. These stand out and they are disturbing.
Lack of understanding of Hawaii's issues. Returning visitors know that Hawaii operates differently from the mainland. What words on the mainland may not be here. Part of coming to Hawaii is about respecting the local culture and customs.
Since the restart of travel to Hawaii, we have noticed a big difference in the attitude of some visitors. Even though it is a minority, there seem to be more inconsiderate visitors, which used to be much rarer.
Hawaii's ease of access proved to be its nemesis.
No doubt, Hawaii is easy to get to. And that's part of the problem and the allure. Today there is good news on international travel with the elimination of Covid testing requirements for those of us traveling overseas. Nonetheless, 2022 is the summer of Hawaii travel, and domestic travel in general, more than that of international travel. Next year could be completely different.
Official HTA arrival numbers will be slow in coming, but when they do, we'll think it was the summer of all summers here in Hawaii.
How you can help while vacationing in Hawaii.
We keep saying it, but sometimes it falls on deaf ears. If possible, delay your Hawaiian summer vacation until late summer (mid-August) or later. Choose to come when overtourism and all its problems are not as much of an issue.
Let's all be nice to each other, even if that's easier said than done. When you visit us here, we want to share our Aloha with you. We seek your help to respect Hawaii and its people, and to protect it for all of us today and for future generations.
Hawaii remains one of the most requested and iconic vacation destinations in the world.
From the state, our domestic arrivals are on track to surpass all previous records.
Please share your thoughts on the situation this summer in Hawaii.
Disclosure: We receive a small commission from purchases of some of the links on Beat of Hawaii. These links cost you nothing and provide you with the revenue needed to provide you with our website. Mahalo! Privacy Policy and Disclosures.

#Hawaii #Summer #Travel #Begins #Dizzying #Influx #Huge #Frustrations